Do you want to train with weights at home, but you don't fancy using halters? Then go for dumbbells! There are many advantages to training with dumbbells. We will discuss this in more detail. In addition, a number of dumbbells are reviewed, so that you can make a good choice as to which dumbbells suit you best.
Dumbbells have made a big comeback in recent years. And rightly so! There are many advantages to working out with these compact weights.
 
The advantages of training with dumbbells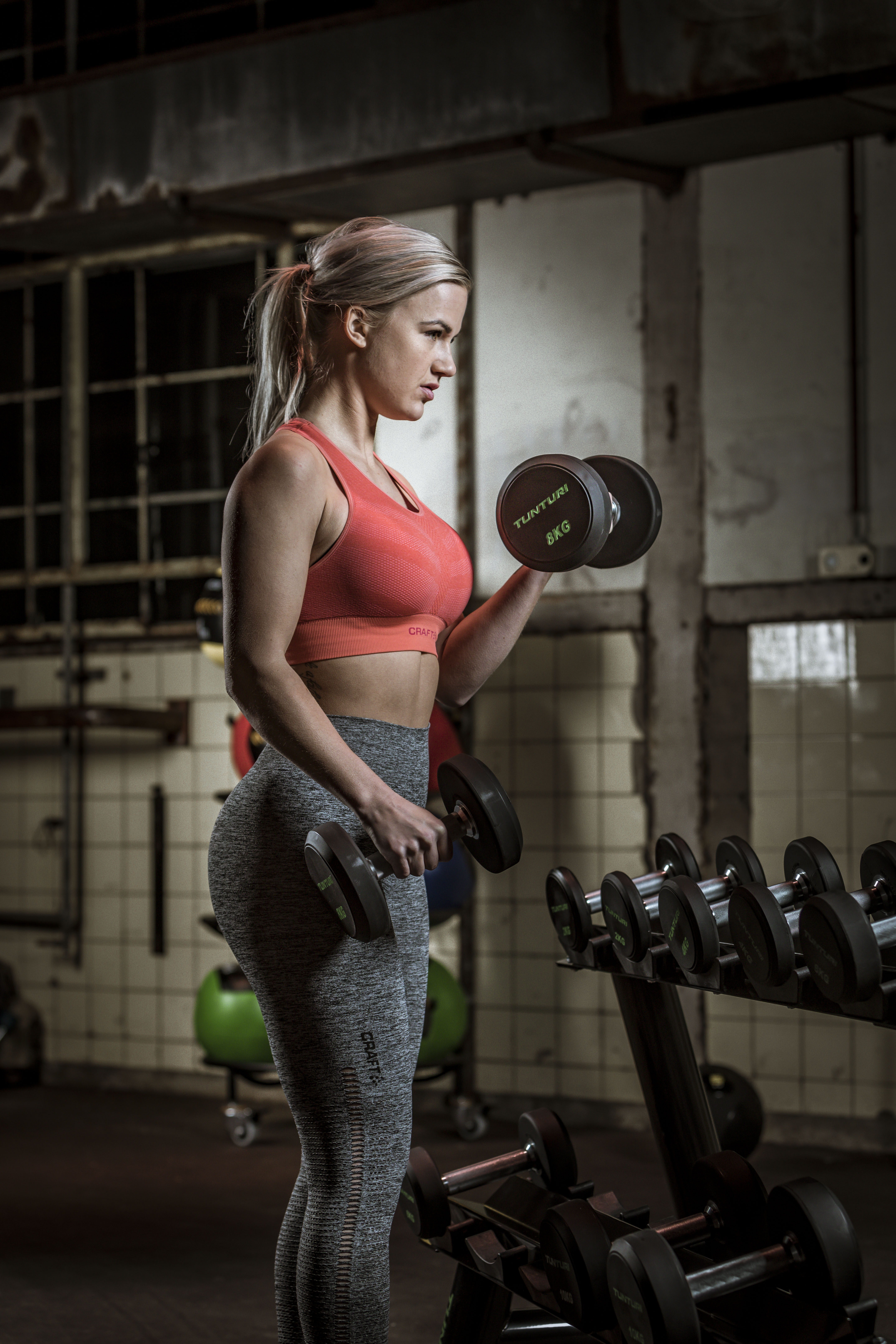 1. You do a complete workout
With a good set of dumbells, you have the opportunity to train your whole body and work on your arms, shoulders, back, chest, abs, buttocks and legs.

2. Dumbbells are versatile
There is an endless choice of exercises with dumbbells, thus a workout never has to become a plain routine. And that challenges your muscles.

3. Train muscles independently
Training with dumbbells "forces" your body to make an equal effort on both sides. You can train your muscles independently. Does your strong side compensate your weak side? With dumbbells you will quickly find out and be able to correct it.

4. You train safely
Barbells or halters can be dangerous, especially with heavy weights, for example if you lose your grip and don't have a training buddy to keep an eye on you. You can easily drop a dumbbell if needed without hurting yourself.

5. You improve your stabilisation
Many dumbbell exercises require stabilisation, especially if you train both sides of the body separately. When training for stabilisation, more muscle fibres are activated, which has a positive influence on muscle growth.

6. You increase your range of movement
A larger range of movement is fine for training your muscles effectively. For example, if you are bench-pressing with a barbell, you cannot lower the bar all the way. So your movement is restricted. With dumbbells, you can easily sink a little deeper and adjust the height to give your muscles more of a challenge.
What types of dumbbells are there?
We distinguish two categories of dumbbells: fixed dumbbells and adjustable dumbbells.
 
1. Fixed dumbbells
Fixed dumbbells are, as the name suggests, not adjustable. They have a fixed weight, such as 1 kilo, 5 kilos, and even 42 kilos. This has the advantage that you can start your workout immediately and do not have to worry about attaching the right weights first. The downside is that you need more space if you want to train with different weights, because you need to buy more dumbbells. Don't want dumbbells lying around everywhere? Then buy a dumbbell rack!

Within the category of fixed dumbbells, we distinguish two types:




 
Hexa dumbbells
These are dumbbells with six corners, which is why they are also called "hexagon dumbbells". These dumbbells do not roll away. For example, they can be used as push up handles and they can easily be stacked. Hexa dumbbells have a rubber coating so they do not damage the surface. The disadvantage is that you have to buy several dumbbells if you want to train with different weights.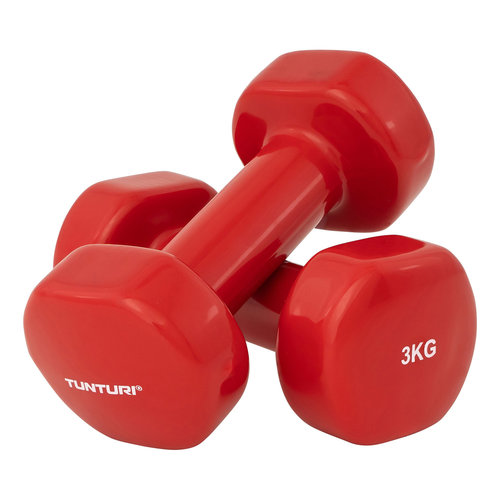 Vinyl and neoprene dumbbells
These are special dumbbells for workouts where you move a lot, such as aerobics. If you move a lot, you sweat more. Vinyl and neoprene ensure that you keep a good grip on the dumbbells. Moreover, these dumbbells are easier to clean thanks to their special coating and they do not damage the floor. As they are mainly used in endurance and muscle conditioning training rather than pure strength training, these dumbbells are available in weights of up to 5 kilos.


 

 
2. Adjustable dumbbells
By means of a clever mechanism, you can easily set the right weight. Pick up the dumbbell and you will immediately find the right weight on it. This is up to six times faster than with other adjustable dumbbell sets! The advantage is that one set is enough and you do not need to buy several dumbells. That saves space and money. The disadvantage is that the chance of wear and tear is greater, because you always use the same dumbbell. Moreover, it is larger than a fixed dumbbell because you need to be able to attach several weights.

Within the category of adjustable dumbbells, we distinguish two types.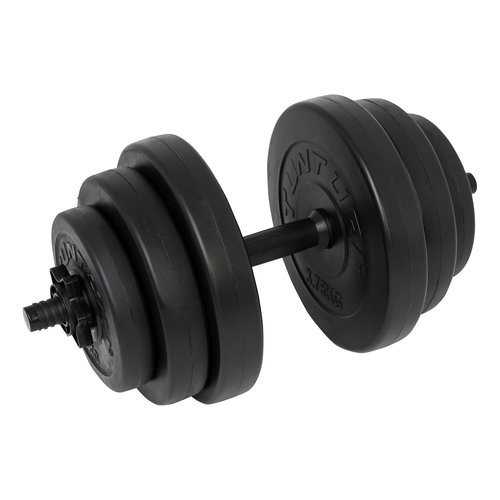 Set dumbbells
Screw collars allow you to screw multiple weights to the dumbbell. This saves a lot of space because you only have one set and not several dumbbells in different weights. A set contains weights of up to 20 kilos. In addition, you can choose cast iron dumbbells or those with a vinyl coating.
The disadvantage of these dumbbells is that you have to interrupt your workout if you want to continue with more or less weights.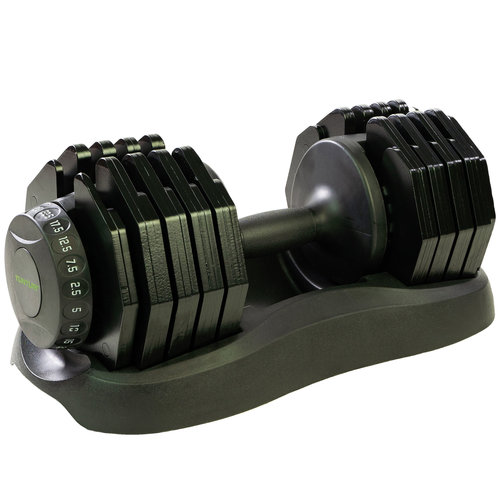 Selector dumbbells
With this set , all you have to do is specify the weight you want on the dumbell. Once you have set the weight, lift the halter and the required discs remain attached. So you do not need to attach any discs yourself.
 
This handy system allows you to change weights up to 10 times faster compared to normal adjustable dumbbells.

 
 



Getting started with dumbbells? We have a wide range of different dumbbells to make your workout extra challenging!