Stiff, sore or tired muscles, a bruise or a sprained ankle. We instinctively often reach for heat or cold treatment, respectively. A warming gel on the muscles, a cold compress on the sprain; it reduces pain and swelling.
Temperature differences work to relieve pain and loosen stiff muscles. Heat and cold therapy are therefore often used for pain and injuries, but is also nice after an intense workout, for stress complaints and menstrual pain.
What is heat therapy
With heat you activate the muscles, improve blood circulation and relax tired and stiff muscles. This is nice after an intense workout, where you stimulate the muscles for faster recovery. But it is also nice to relax after a day sitting behind a desk, it reduces menstrual pain and it can help relax after a stressful event such as an exam. In addition, heat therapy relieves chronic pain in rheumatism and osteoarthritis, for example.
What is cold therapy
Cold helps to inhibit swelling or bruising, reducing pain. Cold causes muscles to contract and slows blood circulation. Swelling and bruising are thus less likely and inflammations can also decrease as a result. In addition, the cold slows down pain impulses sent to your brain. So you also experience less pain. And do you have a mosquito bite? It also slows down 'itch stimuli'.

Be careful not to completely numb the spot. Pain is a sign that you should not overload that part of your body. If you numb the pain completely, there is a chance that you will still overload the spot, resulting in a (worse) injury.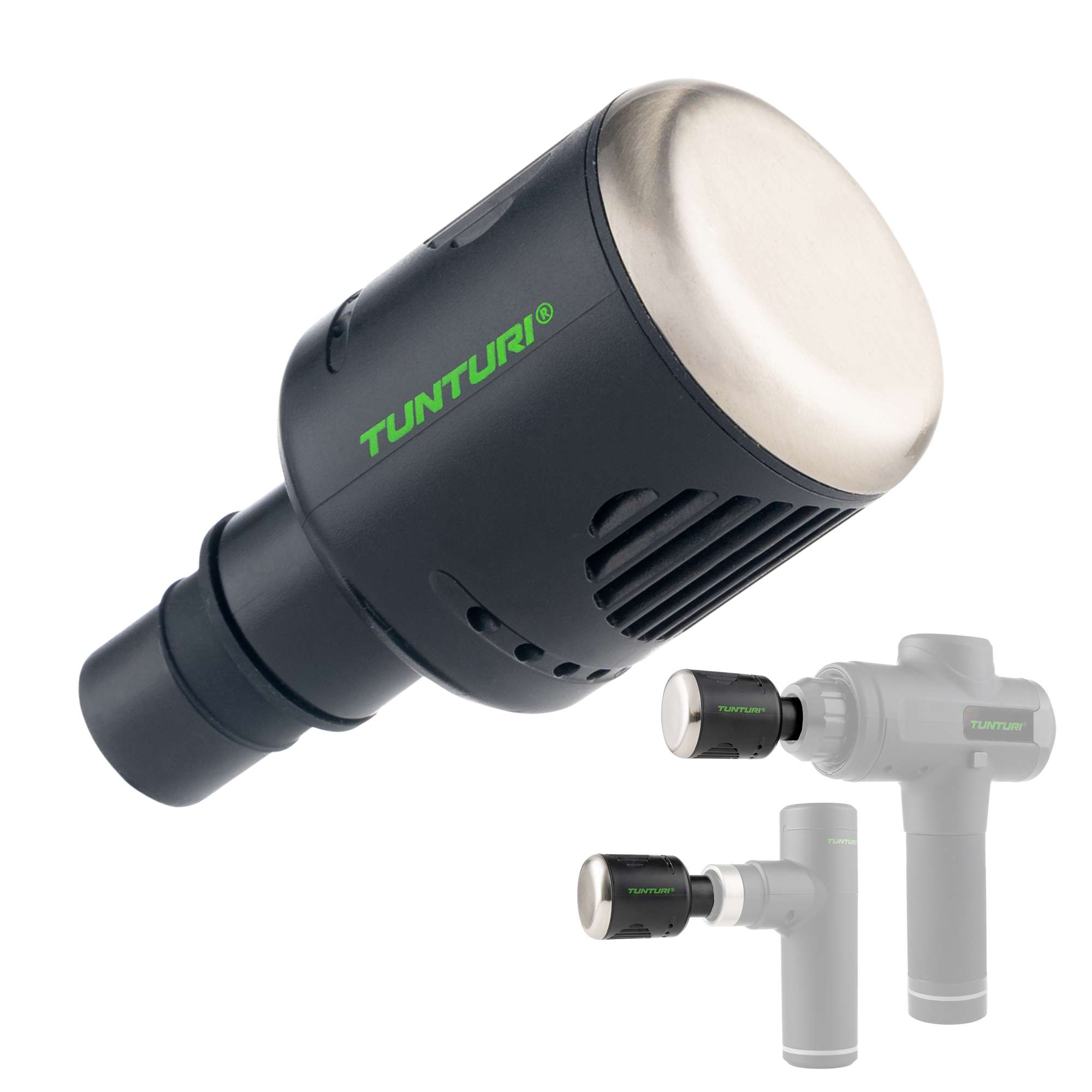 Tunturi Massage Gun Head - heat and cool
You can get started with gels, a heat compress or a bag of ice, but make it easier for yourself with a heat and cool 'therapist' in one: the Tunturi Massage Gun head - hot and cold. In the blink of an eye, you treat an area with the right temperature. For heating, you choose between 40°C or 45°C. For cooling you choose between 20°C or 15°C. The LED indicator on the massage head shows by color which temperature you are using.

The massage head fits the Tunturi Massage Gun and its little brother the Massage Gun Mini. You charge it via USB-C. The battery is fully charged in two and a half hours. At 40°C, the battery lasts 2.5 hours, at 45°C two hours. For cooling, once fully charged, you can use the battery for one hour at 15°C and forty minutes at 20°C.

For safety, the massage head switches itself off after fifteen minutes of continuous use.
Want to know more about the Tunturi Massage Gun, Massage Gun Mini and heat and cool headpiece? Check them out here.