A mat is perhaps one of the most versatile sporting accessories. You can use a mat for many different exercises and sports, not just fitness or yoga. They are available in different thicknesses and can be made from various materials, and often you can also choose between various colours and prints.
And you can also choose between different types of mats. For example, you can choose between a yoga mat and a fitness mat. But what's the difference and do you really need to use a yoga mat for yoga and a fitness mat for fitness?
 
What are the differences between a yoga mat and a fitness mat?
A yoga mat and a fitness mat are not the same, they differ in a number of important points. You can take those points into account when choosing a mat. We'll list them here for you.
 
Thickness
If you put both mats next to each other, you immediately see a clear difference. A fitness mat is thicker. A standard yoga mat is usually between four and six millimeters thick. Do you need more support with yoga exercises, for example if you practice Power yoga? Then you can better choose a slightly thicker mat to keep more stability while doing yoga. If you practice yoga at home, a thicker mat is also fine. Do you often take the yoga mat with you, for example to yoga class or to the park? Then choose a thinner mat. You can easily roll it up and take it with you.

Fitness mats are usually between one and one and a half cm thick. Because the load in fitness is usually greater, a thicker mat is more comfortable.

Do you do a lot of balance exercises? You can perform them more easily on a thinner mat. The thicker the mat, the more you need to stabilize, which is at the expense of the balance exercise.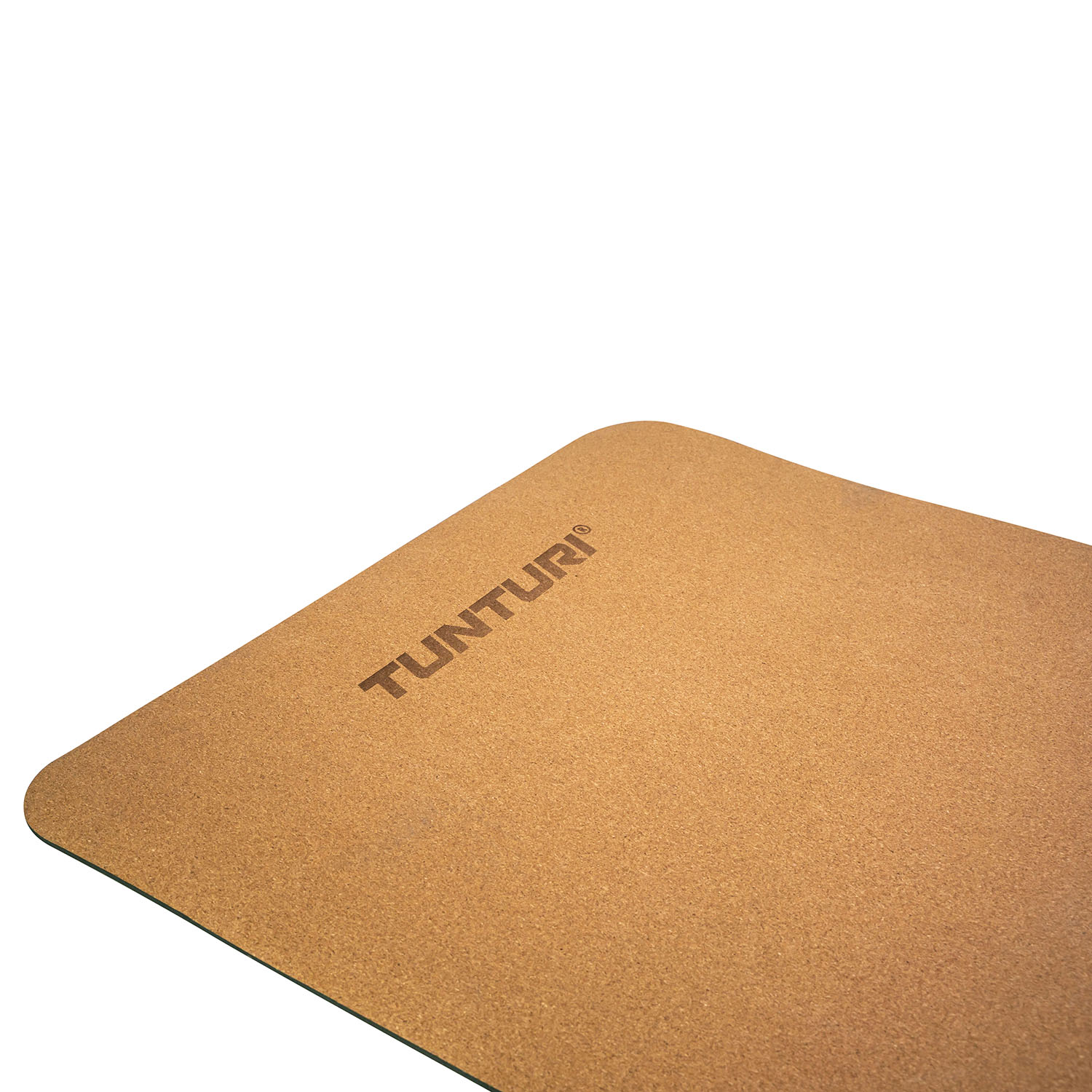 Density
In addition to the thickness of the mat, the density is also important. Higher density ensures more stability and comfort. Do you do exercises that exert a greater load on the mat? Then choose a mat with a greater density. 
Eco-friendly
Are you environmentally conscious and would you like an eco-friendly yoga mat? Those are also available. For example, choose a
cork yoga mat
.
Structure
A
yogamat
has a better surface structure than a fitness mat. With yoga, you often have to hold certain postures and for that you need more grip on the mat. So the mat has a rougher structure. Because you usually sweat a little more with fitness, a fitness mat is smoother, making it easy to clean. 
Material
Most yoga mats are made of PVC. This material is strong, has a high quality, is rigid, and can last for years in normal use and good maintenance.
A fitness mat is usually made of rubber, polymer or neoprene. So that's a bit thicker than PVC and better for your elbows and knees when you do exercises. In addition, the mat does not slide easily under you, even if you do exercises that load the mat a little more.
When do you choose a fitness mat?
If you do exercises that put more strain on the mat, such as abdominal exercises or training with weights, it is best to opt for a fitnessmat. This mat gives more support because it is thicker. The exercises become more comfortable because the surface is softer. In addition, you do not have to be afraid that the mat will suddenly shoot away from under you while performing exercises. A fitness mat is also easy to clean.
 
When to choose a yoga mat?
If you practice yoga on a hard surface such as the living room floor or the yoga studio, a yoga mat is ideal. A mat is more comfortable, warmer for the hands and feet and prevents you from slipping. In addition, it is more hygienic because yoga can make you sweat a lot.