If you think of jumping ropes, the first thing you might think of is the schoolyard. But the jumping rope, also known as a skipping rope, has long lost this image and for many athletes a jumping rope has become an essential part of their workout routine. And rightly so, because the jumping rope is an ideal warm-up, it is an important part of strength training and you train your whole body with it.
For example, you can use a jumping rope for cardio, fitness, boxing or strength training. A multifunctional accessory that you must have in your sports bag. In this blog we explain everything about the advantages of a jumping rope and which types of skipping ropes and extras you can choose from.


What do you train with a jumping rope?
Almost your entire upper body is put to work with jumping ropes. 
Core. When doing jumping ropes, you use the abdominal muscles to stabilize and maintain your balance.
Back. If you tighten your core while doing jumping ropes, you also train the muscles in your back. In addition, it is important that you stay upright while jumping and landing.
Arms and shoulders. You keep the rope constantly moving and you use the arms and shoulders for that.
Wrists. You use at least sixteen muscles when doing jumping ropes.
Thighs. When jumping and landing, you constantly tighten the muscles in your thighs. Do you want to train them a little more? Then drop to your knees a little while jumping, while keeping the back straight.
Calves. You also tighten the muscles in your calves when jumping and landing. The higher you jump, the more strength you need in these muscles.
Coordination. In addition to muscles, you also train your sense of rhythm, coordination and reflexes with jumping ropes. You must stay alert to perform several actions at the same time and to not trip over the rope.
Heart. Because of the intensive movement you put your heart to work, making jumping ropes a good cardio workout.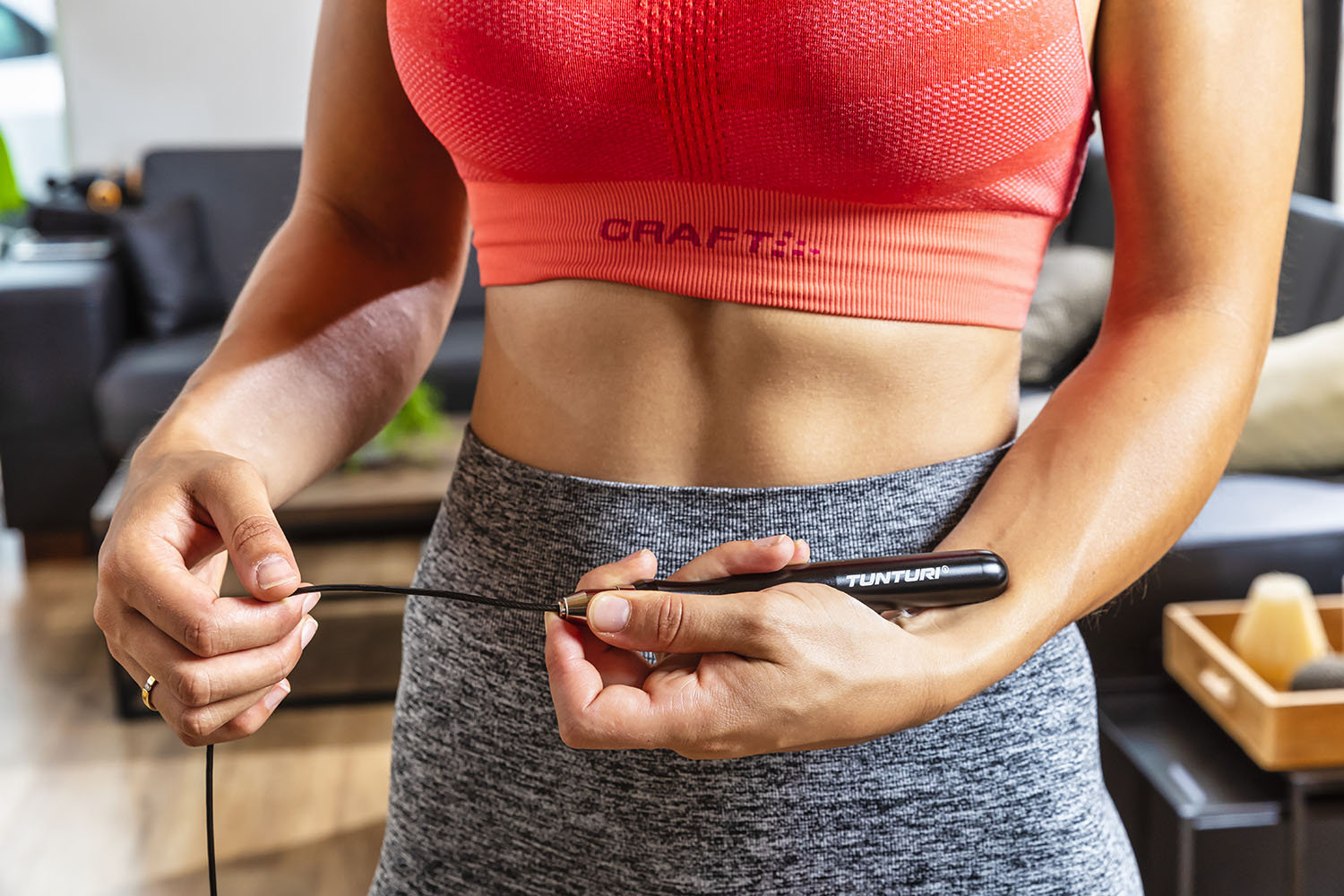 The advantages of skipping ropes in a nutshell:
You burn an average of 700 calories per hour
You don't need any experience
Improves motor skills and coordination
Excellent warm-up
Can be used anywhere, anytime
A skipping rope is compact and fits in any bag
Strengthens bones and muscles
Improves your fitness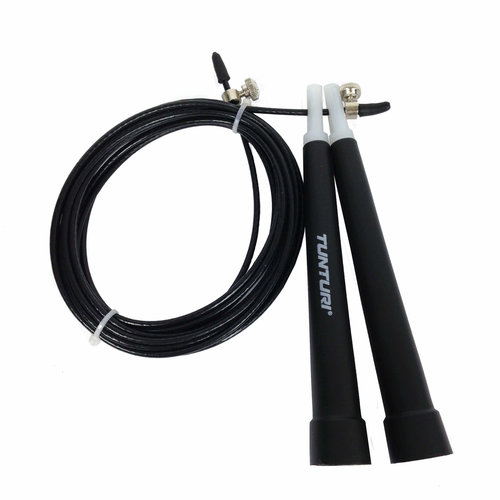 Types of jumping ropes
Are you excited after reading about all these benefits and are you ready to get started? There are different types of
jump ropes
eand jumping rope 'extras'. We will now list a few important points so that you can choose which jumping rope suits you and your workout goals best.
Speedrope (with ball bearings)
This skipping rope is designed to jump rope faster than with a 'classic' jumping rope. This is due to the ball bearings that are incorporated into the handles. These ensure a smooth turning movement with less resistance. A
speedrope
is made of material that is hardly subject to wear such as lightweight, durable nylon or metal wire with a plastic coating.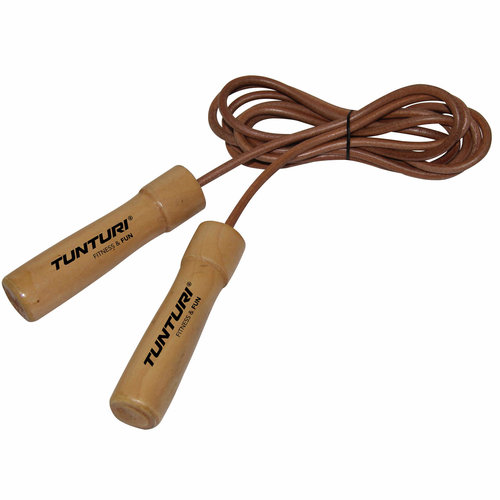 Leather jumping rope
The cord of a
leather skipping rope
is slightly thicker than that of a normal skipping rope, which makes it move more slowly. This makes it ideal if you are a beginner, or just to go for a nice workout without having to think of any personal (speed) records. In addition, the cord lasts lower, because leather is more resistant to the impact of the ground. And do you recognize that when you put a jumping rope into a bag it often turns into a knot? With a leather skipping rope, this is less likely to happen because the cord is thicker.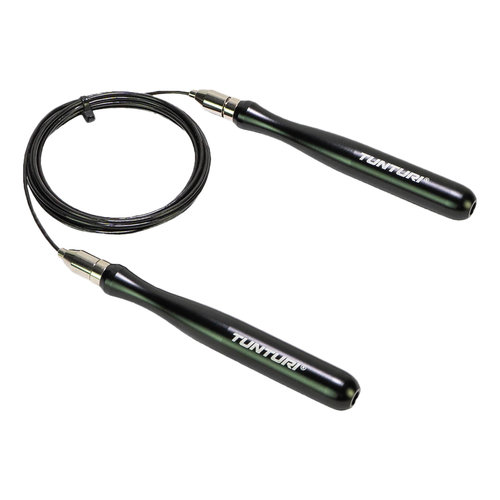 Adjustable jumping rope
If you are going to work with a jumping rope, it is nice if it has the right length so that the rope does not drag too far over the ground or you have to keep the arms too far apart to make the right bow. With
adjustable skipping ropes
, as the name suggests, you can adjust the length. If the jumping rope has a self-lock system, you can set the jumping rope to the right length in a few seconds.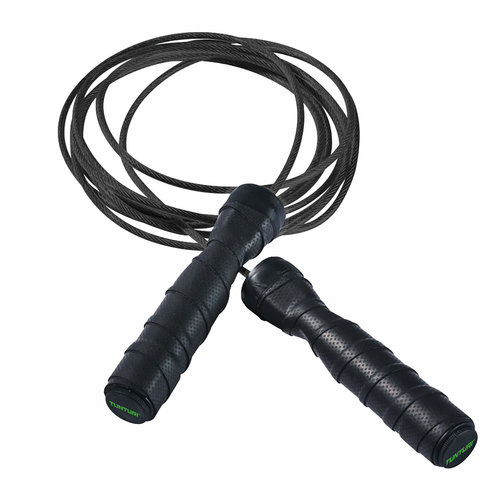 Weighted jumping ropes
Do you want a more intense workout? A
weighted skipping rope
has a heavier cord than a 'classic' skipping rope. There are also jumping ropes that offer the possibility to add weights so that you can alternate in intensity of the workout.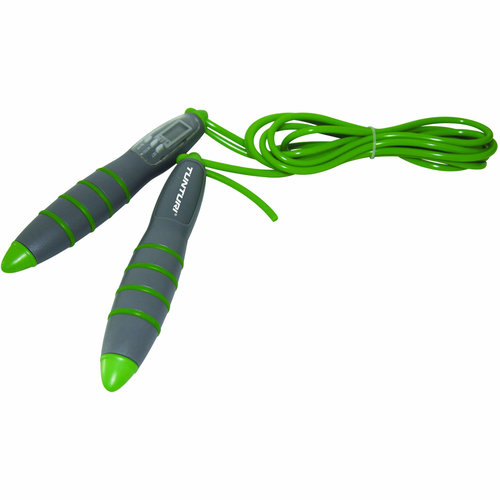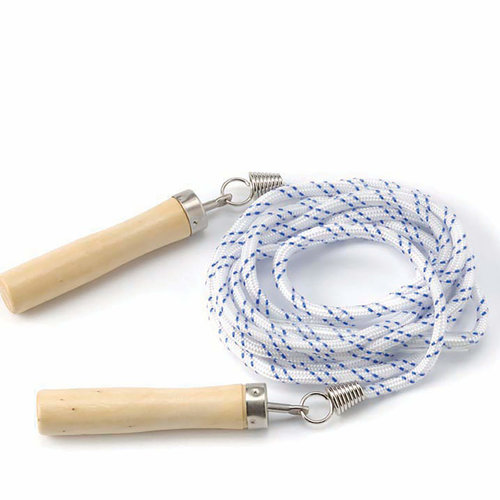 Excited about jumping ropes? Tunturi has a wide range of jumping ropes with various extras which always include the most suitable jumping rope for you!