A workout bench, also known as 'fitness bench' or 'bench' is used in many strength exercises, usually in combination with weights, for example. These can be exercises for both your upper body and your lower body. The bench ensures that you can sit or lie down in the right position so that you can perform a workout correctly. So there are plenty of reasons to buy a workout bench! But what do you pay attention to when choosing a workout bench?
If you want to purchase a fitness bench, there are several points that you have to take into account. Here we list the five most important ones.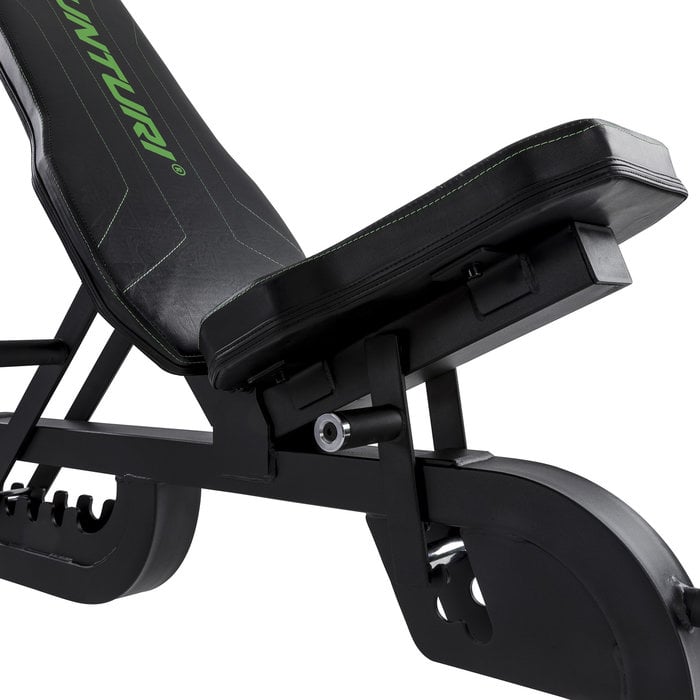 1. Adjustability of the workout bench
You can choose between an
adjustable utility bench
and a
flat bench
. The former has a height-adjustable backrest (and often also the seat), the latter does not. What are your workout goals? Flat workout benches such as the
FB20
and
FB80
often have a higher user capacity. If you do exercises that require a higher user capacity, such as bench presses, then it is better to opt for a flat workout bench. 
If you train with free weights such as dumbbells, then the user capacity is less important and it is more convenient to buy an adjustable bench to have more range of motion (ROM). With an adjustable bench such as the
UB20
,
UB40
,
UB60
,
UB80
and
UB90
, you can adjust both the backrest and the seat. The more positions the adjustable workout bench has, the more training options you have.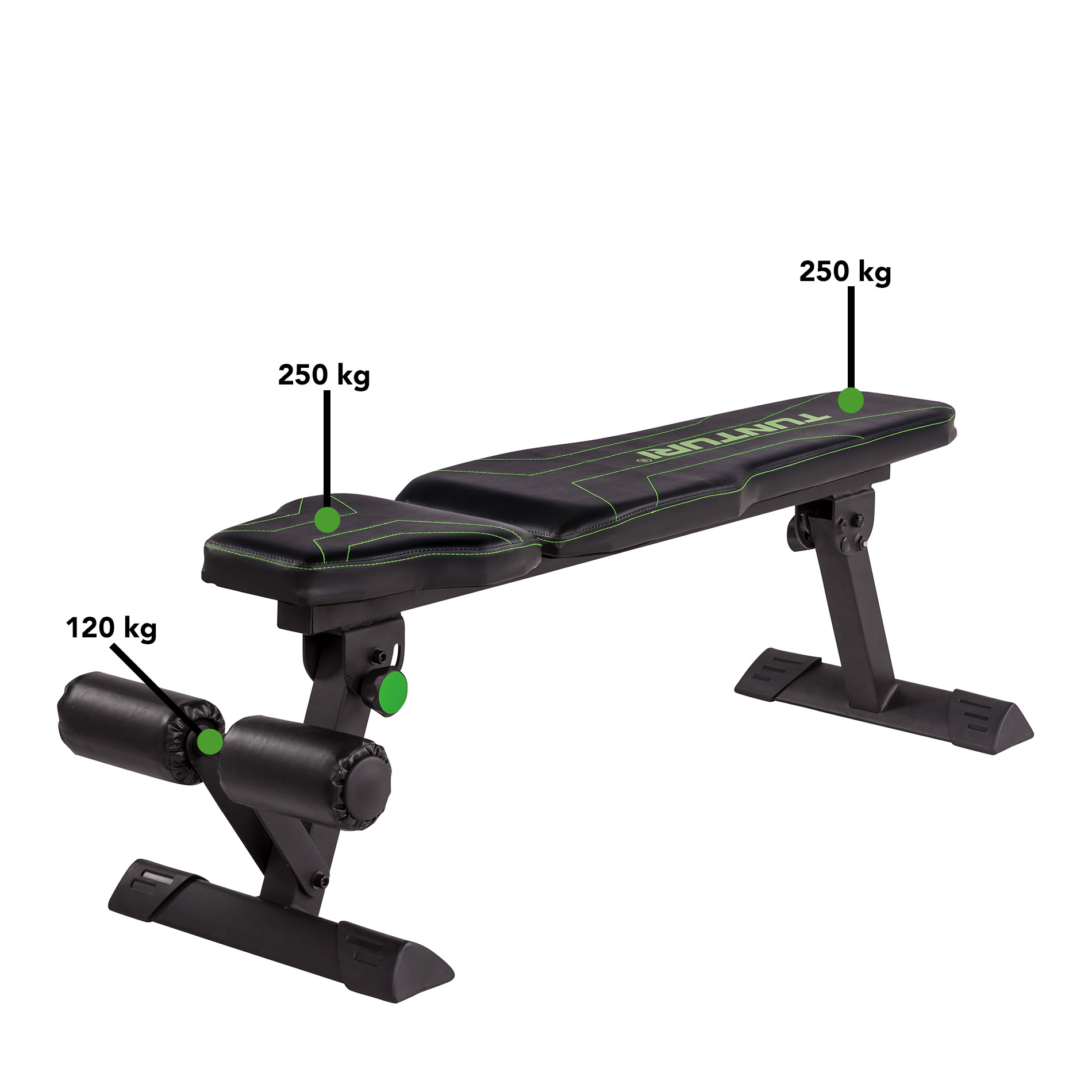 2. User capacity
Every workout bench has a maximum user capacity. This indicates how many kilograms the bench can carry. That is the weight of you as a user plus the weight of the accessories you use during your workout, such as dumbbells or barbells.
 
Also take into account your workout goals. Are you working towards lifting increasingly heavy weights? Then buy a bench with a high maximum user capacity so that you do not have to buy a new bench later on.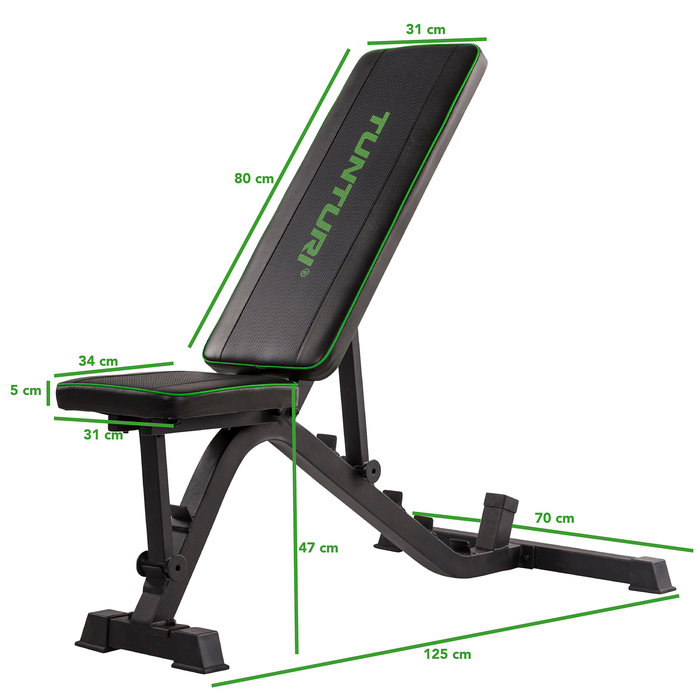 3. Dimensions
The ideal size of a
workout bench
depends on your height. The backrest should be long enough to support your back and your head. The bench must be wide enough to be able to lie firmly with your back on it without you 'overhanging', because that does not help your stability of the bench and your safety during a workout. At the same time, the width should not get in the way of the downward movement of your arms. The height should be such that you can lie on your back on the bench and put your feet flat on the ground.
According to the International Powerlifting Federation, these are the correct dimensions of a workout bench. 
Length: no less than 122 cm, level and flat.
Width: no less than 29 cm and no more than 32 cm.
Height: no less than 42 cm and no more than 45 cm, measured from the floor to the top of the pillow.
4. Padding
A good workout bench has a somewhat stiff padding, so that you do not slip easily. In addition, a bench should be comfortable without becoming too soft. A bench that is too soft has less stability.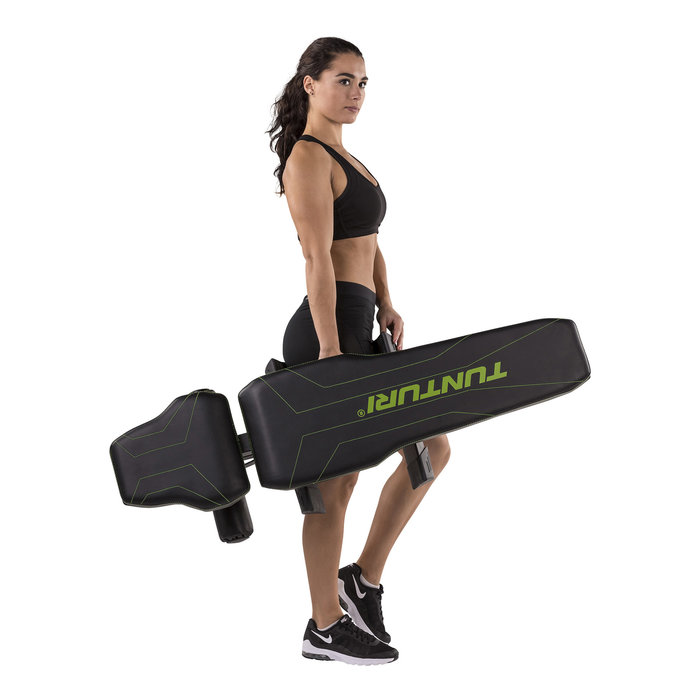 5. Extras
Workout benches often have a few extras, which can make the choice a bit easier. Do you have less space and do you want to clean up the fitness bench after using it? Some benches such as the
UB80
, the
FB80
and the
FB20
are foldable.  
Do you want to be able to move the workout bench easily? Then you choose a bench with transport wheels such as the
UB90
and
UB60
. Do you like to train with dumbbells? The
FB20
has space to store dumbbells. Would you like to expand your workouts without having to buy extra accessories? The
UB60
has a knee and leg roller and leg press.
Have you gone through all the points and do you know what your ideal workout bench looks like? Take a look at our range of workout benches and choose your perfect training bench!