Have fun while getting into shape! With this Fitness Hula Hoop you strengthen your legs, buttocks, back and most importantly, your abdomen. A bonus: you increase your balance and coordination.
Special design
This Tunturi Fitness Hula Hoop also offers a gentle massage. The high-quality material is weighted and is focused on the abdominal areas of the body. The wavy design allows you to easily keep the hula hoop high. Store it by dividing the hoop in 6 separate parts that click in and out of each other.
The benefits of the Tunturi Fitness Hula Hoop
- Enjoyable exercise
- Gentle massage
- Easy to store
A flat belly, firm buttocks... Order the Fitness Hula Hoop now and try to increase your limit!About Tunturi
Feel better every day
. That is the motto of Tunturi. Our origins lie in Finland, where two brothers started a bicycle shop in 1922. Now, over 100 years later, we are a Dutch company and a global brand. We support you on your journey to a healthy and fit body, a balanced mind, and a happy life. We do this with a wide range of cardio and strength training devices, accessories, and supporting apps. It's a range that is constantly expanding and improving, with quality products and excellent guarantees. Can't find your way or do you have questions? Our service team is ready to assist you.
We believe that everyone has the right to enjoy good and healthy exercise, including children. That is why we donate an amount of every purchase you make to
the Fitkids foundation
. Together, we ensure that children with disabilities can play a sport.
Overview specifications:
○ Dimensions: L: 100 cm W: 100 cm H: 100 cm
○ Diameter: 100 cm
○ Weight: 1.2 kg
○ Material: synthetic
○ Product code: 14TUSFU188
○ EAN code: 8717842024874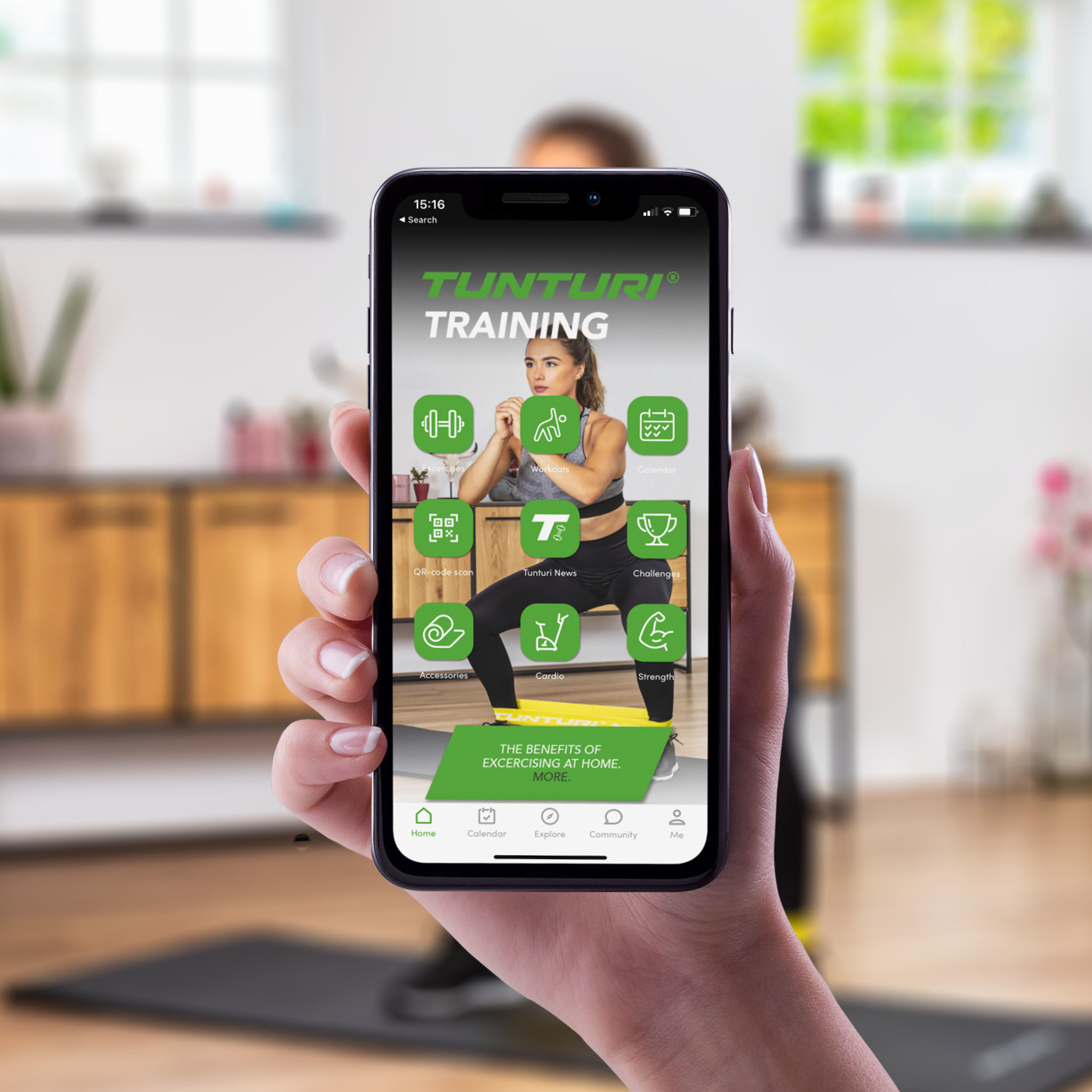 Including Free Tunturi Training app
Looking for help, inspiration or motivation for your training? In Tunturi Training you will find thousands of animated fitness exercises, instructions and workout videos. These will help you get the most out of yourself and your Tunturi products. You can train solo and create your own training schedule, as well as attend group classes and make use of the community. The library is regularly updated so that new challenges and inspiration can always be found in the app. And the beauty of it is: Tunturi Training is 100% free!  and can be downloaded from the App Store and Play Store!
View Tunturi Training