Are you an enthusiastic athlete and do you want to optimise your workouts? Then you cannot avoid using a heart rate monitor. By doing heart rate training, you can keep a close eye on the intensity of your workout. With this, you don't train too lightly, but you also don't go over your limit by working out too intensively.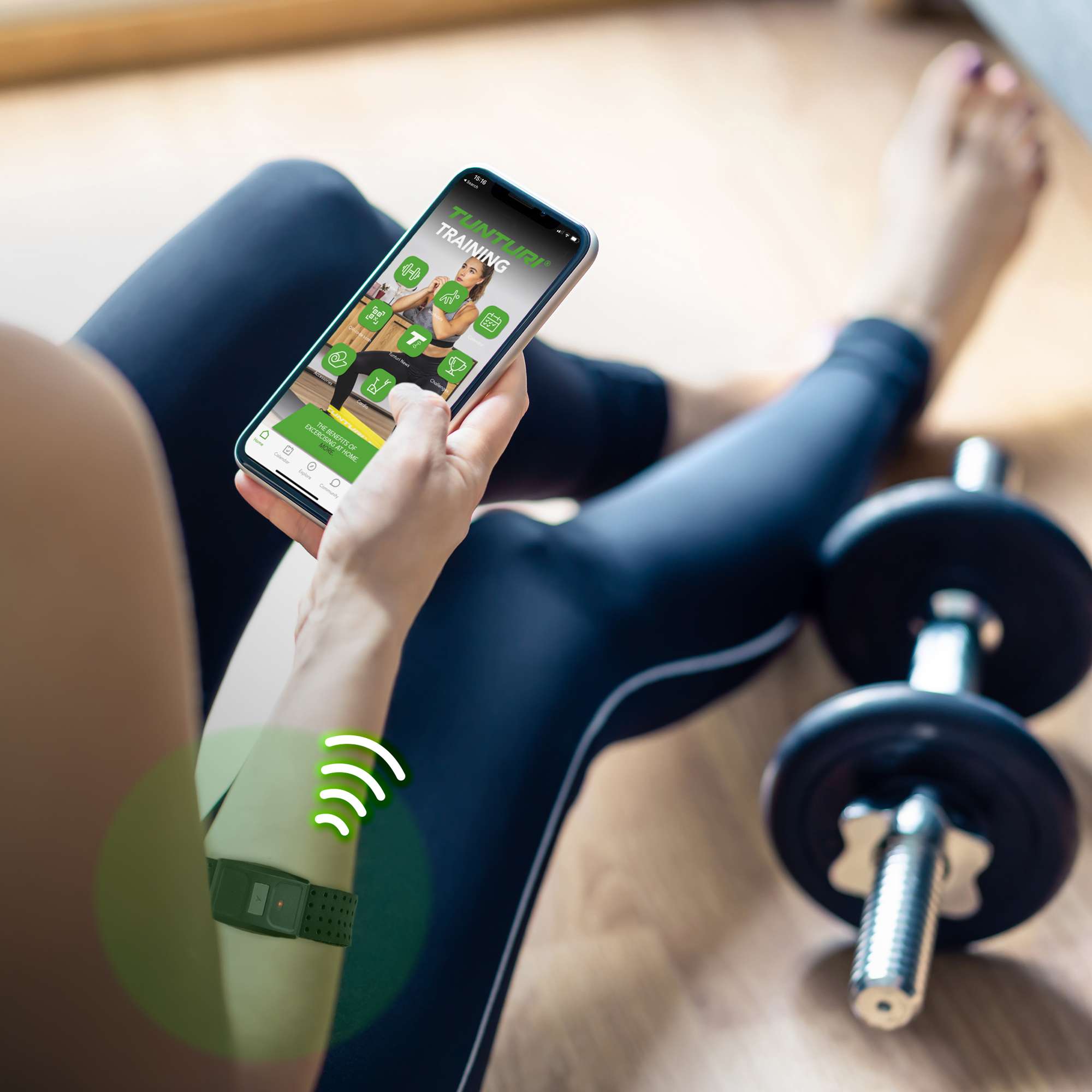 Why track your heart rate?
Your body always needs oxygen. Your heart ensures that oxygen-rich blood is pumped through the body. The more intense the exercise, the more oxygen your body needs and the harder your heart will pump. Your heart rate is an important indicator of the health of your heart and cardiovascular system, as well as your way of exercising. This is because you train most effectively if you stay within your heart rate zones.
If your heart rate is too low then your workouts will not be effective (enough), if you go over the limit of your heart rate zone then you risk overexertion and injury. This has the opposite effect on your training goals because your body needs time to recover from that.
So, a 
heart rate monitor
shows exactly when you are challenging yourself enough or asking too much of your body. This will help you achieve your workout goals.
What are heart rate zones?
Your heart rate is very personal. Not only does your fitness affect your heart rate, other factors also influence the number of beats per minute. Examples include stress, alcohol, but also your physique. Therefore, a heart rate zone is generally expressed as the percentage of your maximum heart rate. We generally distinguish between five heart rate zones.  
1. Very light
This is fifty to sixty per cent of your maximum heart rate. In this zone, you feel like you could go on for hours. It helps you recover from an intense workout and it is good for general health.
 
2. Light
This is sixty to seventy per cent of your maximum heart rate. This is good for your overall stamina and helps burn fat. This too is a comfort zone.
 
3. Moderate
This is seventy to eighty per cent of your maximum heart rate. This is where you notice that you start taking deeper breaths and it feels like a moderate effort. You improve your aerobic fitness.
 
4. Heavy
This is eighty to ninety per cent of your maximum heart rate. This will improve your endurance and your body will burn more carbohydrates to get energy. You start breathing heavily and clearly feel your muscles.
 
5. Very heavy
This is ninety to one hundred per cent of your maximum heart rate. With this, you improve peak performance. You breathe heavily and it is very tiring for your muscles.
What is your maximum heart rate?
The rule of thumb for calculating your maximum heart rate is 220 minus your age. So if you are 40 years old, that becomes 220 - 40 is 180. With this, you can then calculate the percentage for your heart rate zone.

We also always say: listen to your body. Do you have a good heart rate according to the maths but don't feel comfortable with it? Then your body is probably indicating that it doesn't suit you. Are you in doubt about the right heart rate and do you always have a completely different heart rate than the calculation says? If so, always consult a doctor.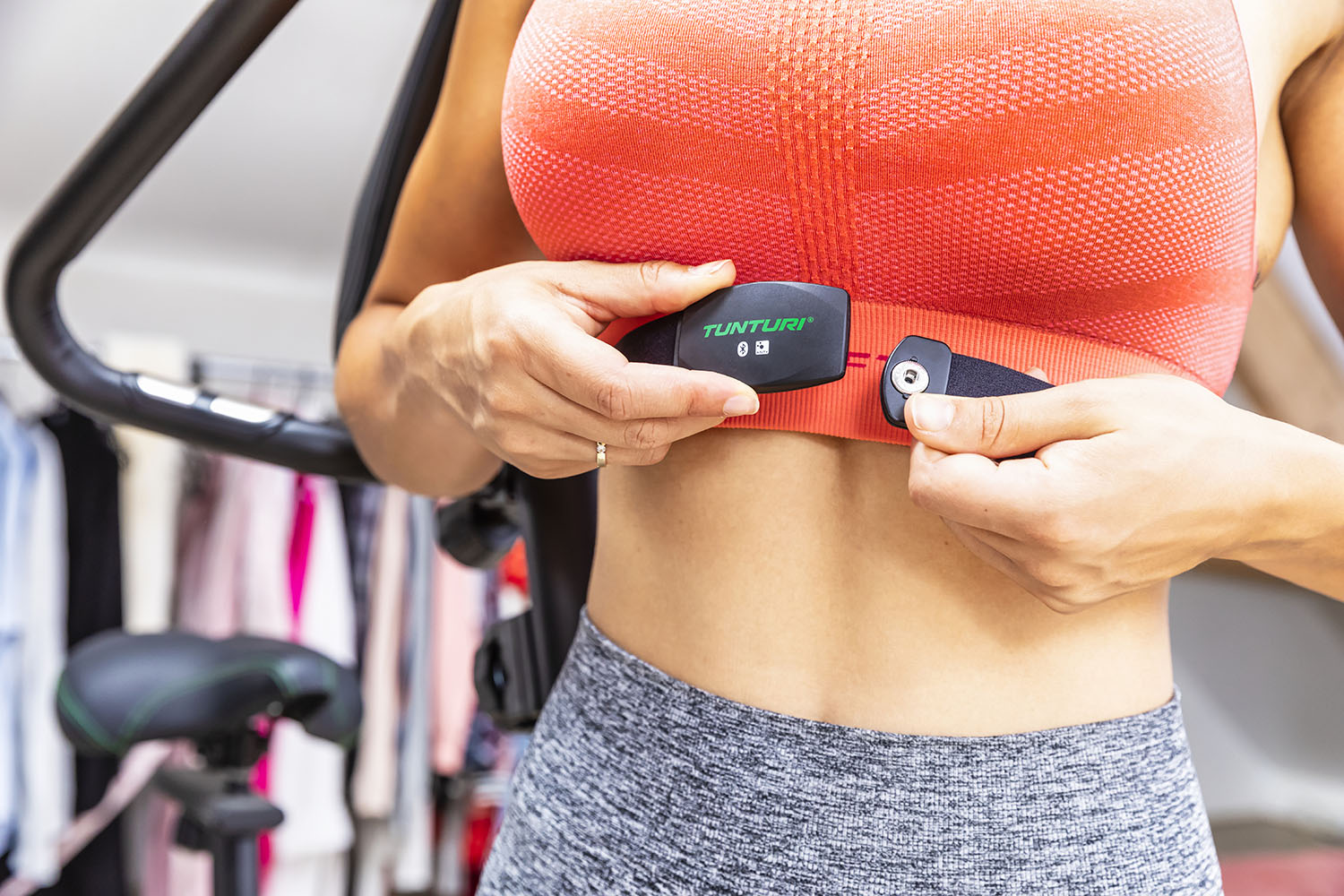 What types of heart rate monitors are there?
Now that you know the benefits of tracking your heart rate during your workout, it's time to choose a heart rate monitor. You can wear a heart rate monitor in two different ways: around your arm or as a chest belt.
1. Chest belt
This heart rate monitor attaches under your chest. Just set the length right, put it on and train!
Chest belts
are made of comfortable material for extra comfort. They can connect directly to an exercise bike or other cardio devices, for example. A chest strap with Bluetooth can also share data directly with your tablet, smartwatch or training app.
2. Armband
Some athletes do not like a chest strap and prefer to opt for a heart rate monitor on the arm. The 
armbelt
can also record your cadence, which is the movement you make while walking. With that, the arm strap measures the average number of steps per minute from your cadence (not the concrete number of steps). Furthermore, an arm strap has the same functions as a chest strap.
3. Integrated heart rate sensors

Many cardio trainers have integrated heart rate sensors. The handles measure your heart rate during the workout. This is fine for a standard measure, but for the most accurate heart rate measurement, a

chest belt

of

armband

is recommended.



We also distinguish between analog and digital heart rate monitors. Chest belts and armbands can be either analog or digital.
 
Analog heart rate monitors
An analog heart rate monitor lets you connect to one device at a time, such as your cardio machine, to track your training results. An analog connection has a shorter range, on average 150 centimeters. An analog heart rate monitor is more affordable than a digital one.

Digital heart rate monitors
Digital (Bluetooth) heart rate monitors have a longer range (one and a half metres on average) than analog meters. So, you can walk a little further from your trainer or device without disconnecting. A digital heart rate monitor can connect to multiple devices at the same time, for example to Tunturi Routes on your mobile phone while sharing your training results with your smartwatch. More modern devices such as a smartphone, smartwatch or tablet can often only connect via Bluetooth. So, pay close attention to that if you want to make use of that in your training and have to choose between analog and digital.