Hula hooping is an underrated sport. Most people immediately think of the schoolyard or gym class at school, but hula hooping is a complete workout for your body and mind. Especially your core, balance and endurance benefit greatly from a frequent hula hoop session. So dust off that hoop or buy a fitness hoop and start moving those hips!
The history of the hula hoop
The first hula hoops were introduced in the 1950s. Two American students, Richard Knerr and Arthur Melin, founded the Wham-O company, a toy company in California, in 1948. They were also the ones who introduced the Frisbee.

An American contributed the idea of a hoop. He had seen children in Australia playing with hoops made of bamboo. The company then made them out of PVC, and in 1958 the hula hoop was launched. It became a hype. Over a hundred million of them were sold in two years. A few years later the hype eased, but from the schoolyard and toy shops the hula hoop never really disappeared.
 

Hula hoop as fitness accessory
In recent years, the hula hoop has come back into the spotlight as a fitness accessory and courses are being run in gyms and over the internet. Rightly so, as hula hooping has many benefits.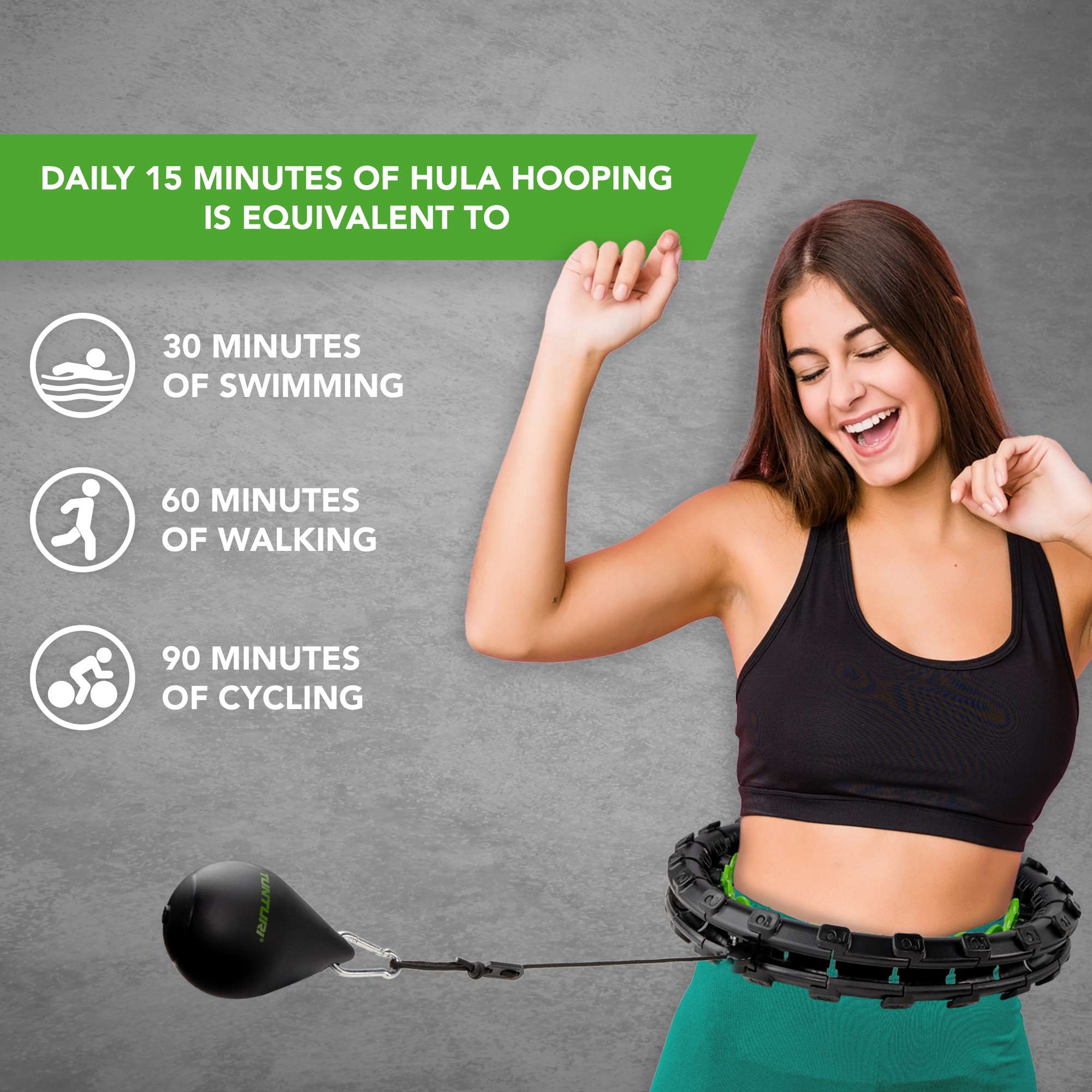 What are the benefits of hula hooping?
Lose weight. Hula hooping is an intense sport.You burn around three hundred calories per hour.
 
Improve your stamina. Because you are constantly moving to keep the hoop going you work on your fitness.
 
Improve your coordination. The hoop doesn't just stay on your hips. You have to maintain good control of your body to keep the hoop straight and rotating in the same place.
 
Not straining for your body. Because you stay in one place and don't jump or run, for example, hula hooping only requires a small amount of strain on your body and no strain on your joints.
Which muscles do you train with the hula hoop?
Straight abdominal muscles
Oblique abdominal muscles
Gluteal muscles
Quad muscles
Lower back muscles
In addition, with the hula hoop, you work on your core stability and your hips and back become more flexible.
Which hula hoop to choose
These days, hula hoops are available in different shapes and sizes. So how do you choose the hoop that suits you? It starts with size. Some hoops have a
fixed size
, while others have link pieces which allow you to adjust it
to your preferred size
.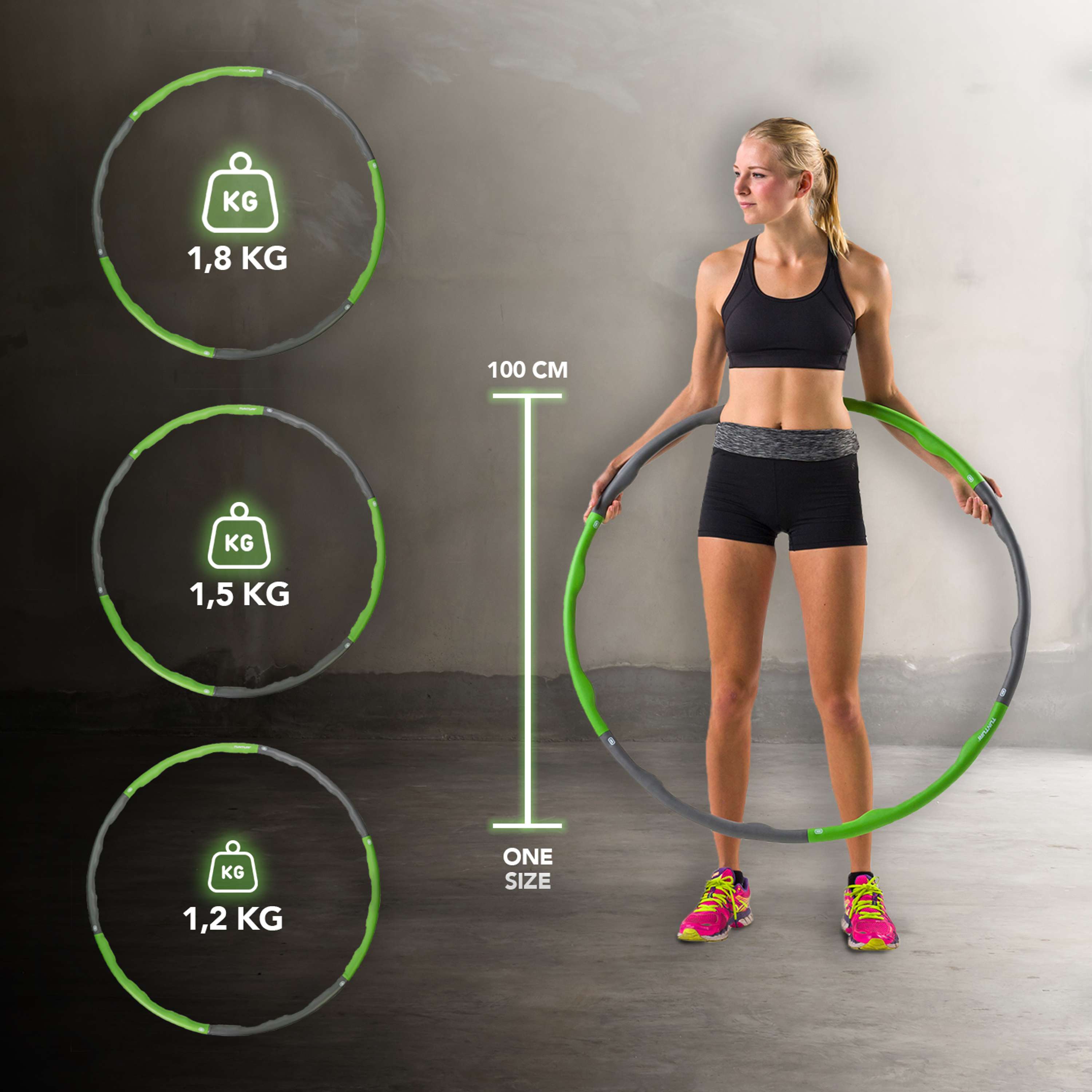 Hula hoop with a fixed size
For a 'fixed' fitness hoop, the advice is that it should be between your chest and waist when you put it upright in front of you. The wider your waist circumference, the higher to your chest the hoop should be. The advantage of a fixed hoop: you can rotate it not only around your waist, but also around your neck and shoulders, for example, to make the workout more challenging. In addition, a larger diameter allows for a slower, more constant movement.
The
Tunturi Fitness Hula Hoop
has a fixed diameter of one hundred centimetres. You can disassemble the hoop parts so you can easily take them with you in your gym bag. The weight is integrated in the hoop, and it's available in different weights (1.2 kg, 1.5 kg and 1.8 kg). These kind of hoops are more challenging for beginners, as the hoop can fall off your hips if you don't keep moving.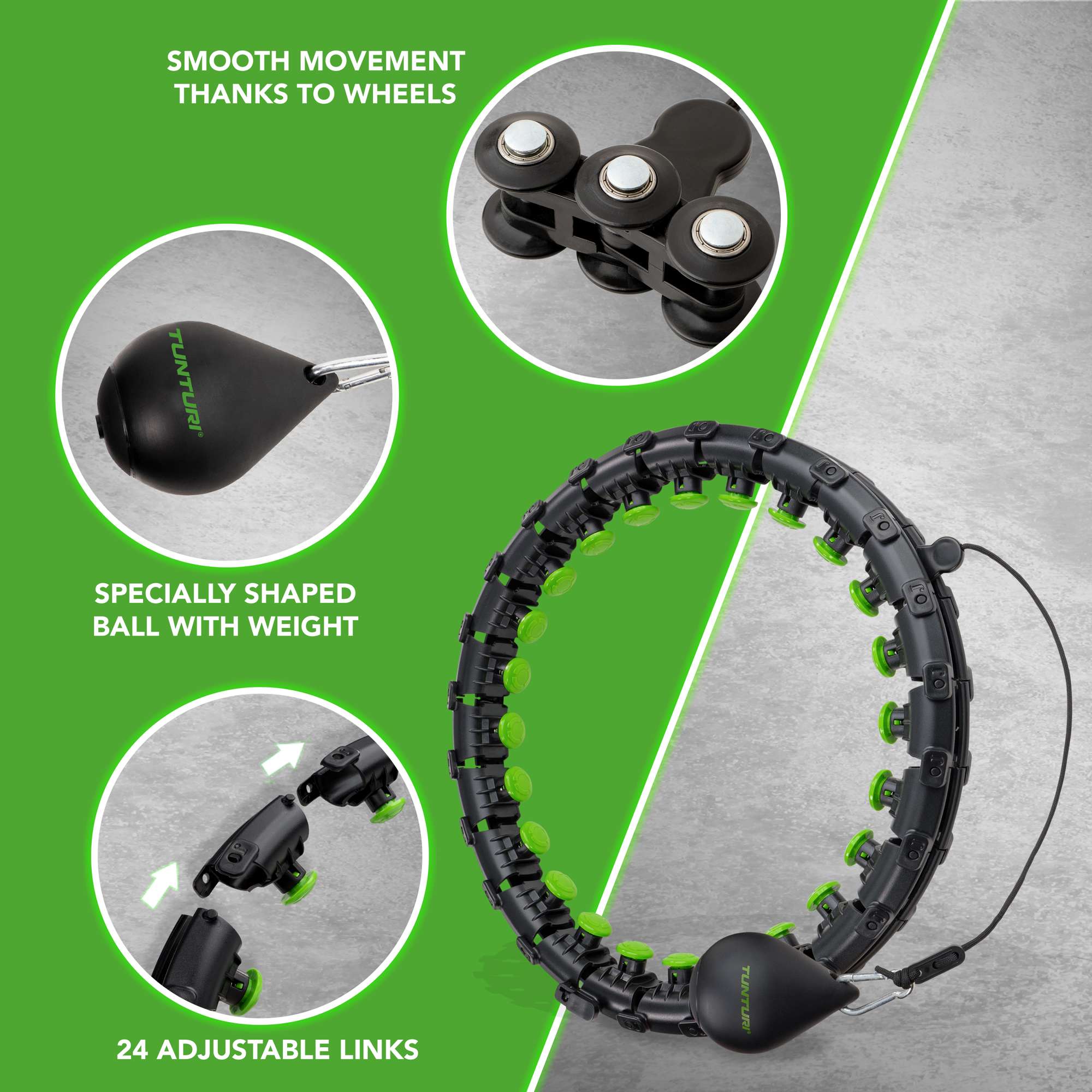 Adjustable hula hoop 
The smaller the hoop, the more you get out of the workout. These hoops are ideal for beginners because they do not fall off your hips and thus you are not constantly taken out of your 'flow' to pick up the hoop off the ground.

With a smaller hoop, you have to make more rotations per minute to keep the hula hoop moving. The

Adjustable Hula Hoop Including Weight

, for example, consists of several link pieces. You simply remove a piece to make the hoop smaller. The Hula Hoop with weight consists of no less than 24 link pieces and also has an external weight that rotates with you as you move the hoop. This hula hoop has massaging nubs that improves your blood flow around your abdomen, back and hips.



Fully convinced of the benefits of a hula hoop? Tunturi has several hula hoops for a fun and challenging workout.