The Massage Gun is the latest innovation in Tunturi's extensive massage products collection. A massage gun is a device that helps you massage your entire body. Learn what the advantages are and how you can use it in the most effective way.
From straining to relaxing 
If you are working out for the first time, every movement of your muscles feel as if you are way out of your comfort zone. But even people who have been working out for years still have to work hard to become better, faster or stronger.  So it makes sense we all feel our muscles after an intensive workout. It can even feel quite good, right? That muscle pain in your arms or legs as proof that you really DID something. But whether you train hard or casually, getting rest is a crucial part of every training. Not just in between exercises, but also in between training days. It gives your muscles time to recover. A massage gun will help your process of recovery, but it offers more advantages.


The advantages of a massage gun 
Warms up the muscles;
Reduces pain and muscle tension;
Speeds up the recovery of muscles;
Stimulates blood circulation;
Helps to provide total relaxation;
Reduces stress in body and mind.
The big difference between a massage gun and other massage products - for example massage balls and foam rollers - is that you don't have to exert pressure or use force to massage specific muscles.
 
Three steps towards an effective massage
It sounds obvious - and it is - but every head piece and every speed has its own function. Getting the best or most effective massage will differ for each person. Before you start:

1. Choose the muscle or muscle group you want to massage
2. Choose the appropriate head piece
3. Choose the appropriate speed, depending on what you want to do with the muscle
 
Choosing the right head piece
Do you want to stimulate the blood circulation in your thighs? Reduce the muscle tension in your upper arm? Or loosen up your neck and shoulders after working behind a desk all day? The Tunturi Massage Gun has four different head pieces. Every head piece has its own 'specialism' and together they form one set which allows you to execute all types of massages. Try out for yourself what feels the most comfortable or hast the best effect.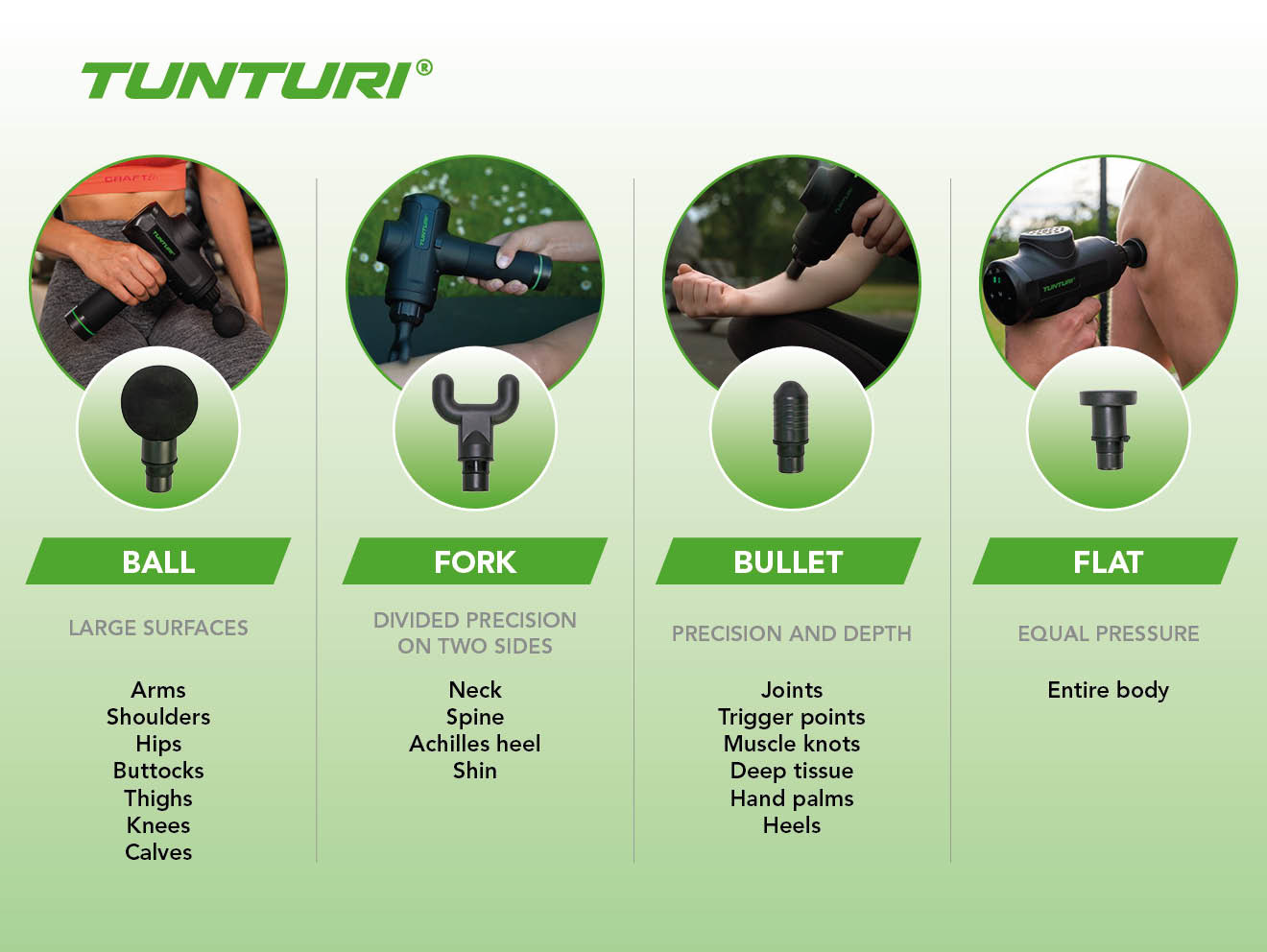 Choosing the right speed
Choosing the right speed will greatly influence the effect of your massage, just like choosing the right head piece. If you want a light massage, it makes sense to choose a slower speed. But a lower speed is also the best choice if you want to warm or loosen up your muscles, for example right before you start your workout. The Tunturi Massage Gun has twenty different speeds to choose from.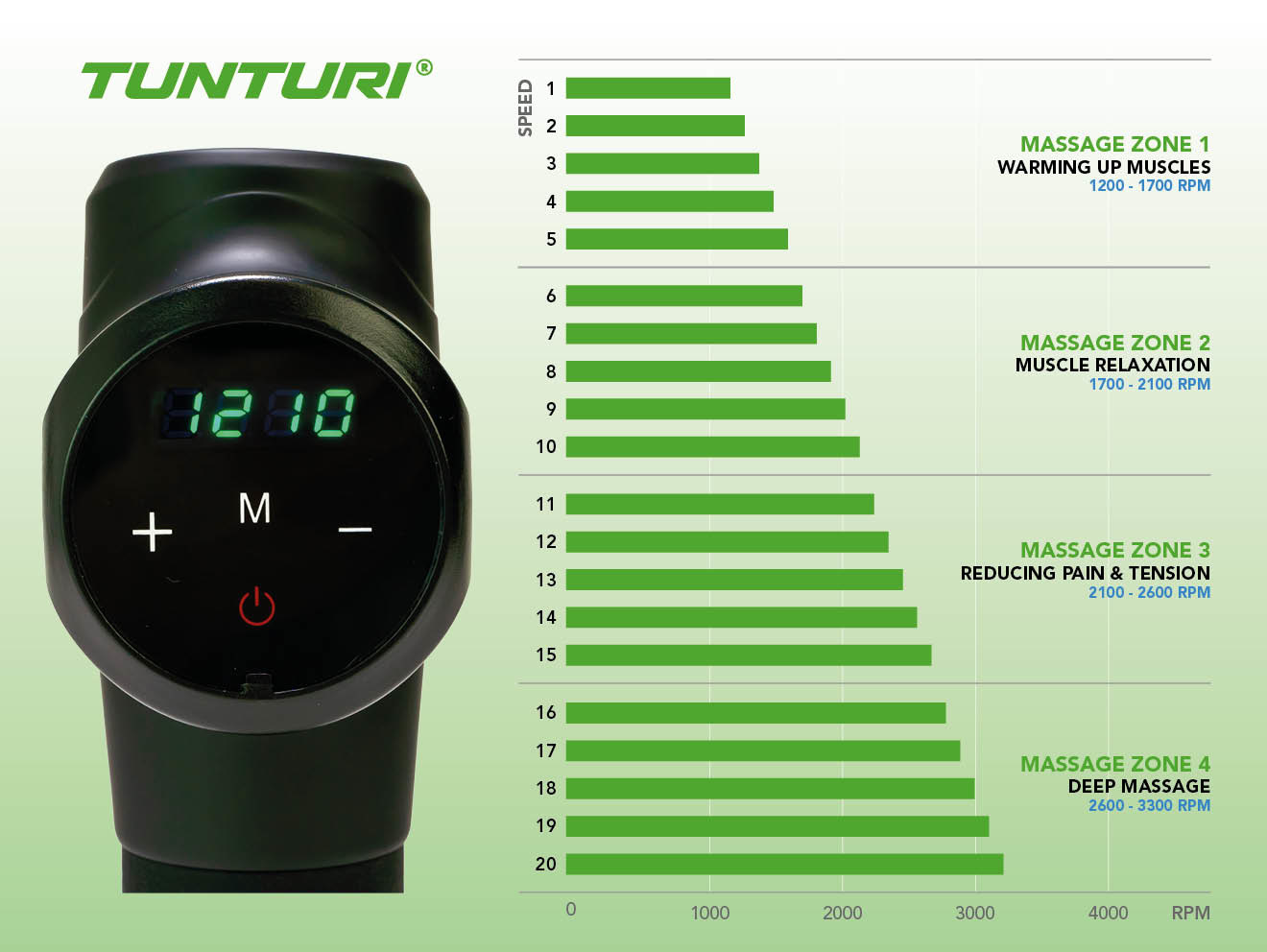 Tips for an effective massage
Listen to your body. If you massage a sensitive or sore muscle, it is normal that the massage can feel a bit uncomfortable. However, it should never become uncomfortably painful.
Try out different headpieces. Did a specific head piece not give the expected result? Try out a different one and it will most likely make a difference.
Try out different speed levels and amount of pressure. Some people get the best results by applying low pressure on a high speed level, and other people when applying a higher amount of pressure with a lower speed level. 
Does the gun 'bounce' off when you massage a muscle or when you touch the surface of a bone? Try reducing the amount of pressure and just let the head piece slightly touch the muscle or body part.  
 
More information and specs
Do you want to know more about the functionalities and specifications of the Massage Gun? Check out the product page. 
Do you want to start massaging right now? Buy the gun online.