Get fit by boxing
Boxing with a punching bag has many benefits, both physically and mentally. With boxing your muscles become stronger and you work on your condition. You train without an opponent, which significantly reduces the risk of injuries and you can train whenever you want. But boxing also means: releasing stress and clearing your head completely. And finally, you'll work on your hand-eye coordination thanks to the swinging motion the bag makes after each punch or kick.

Benefits
✔ For stronger muscles and improving coordination
✔ Easy to hang with included four-point chain
✔ For beginners and advanced
✔ Very strong: exterior consists of one piece, with double stitched suspension loops
✔ Bisonyl is hardwearing, durable and absorbs the impact of punches and kicks

For more than just boxing
This hanging punching bag is suitable for various sports such as kickboxing, free fight, Thai boxing and of course traditional boxing. Gymnasts and tennis players, for example, also use a punching bag to train the arms and coordination.
The punching bag is made of bisonyl, a material that absorbs punches and kicks well so that you put less strain on the joints. The bag consists of one piece and has no seams, so you have the same flexible surface everywhere and there is no chance of the bag tearing.

About Tunturi
Feel better every day. That is the motto of Tunturi. Our origins lie in Finland, where two brothers started a bicycle shop in 1922. Now, over 100 years later, we are a Dutch company and a global brand. We support you on your journey to a healthy and fit body, a balanced mind, and a happy life. We do this with a wide range of cardio and strength training devices, accessories, and supporting apps. It's a range that is constantly expanding and improving, with quality products and excellent guarantees. Can't find your way or do you have questions? Our service team is ready to assist you.

We believe that everyone has the right to enjoy good and healthy exercise, including children. That is why we donate an amount of every purchase you make to the Fitkids foundation. Together, we ensure that children with disabilities can play a sport.

Overview specifications:
○ Dimensions: L 38 x W 38 x H 120 cm
○ Weight: 29 kg
○ Color: black
○ Material: bisonyl
○ Including 4-point chain
○ Product code: 14TUSBO113
○ EAN code: 8717842034224

Choose your size
We have a suitable punching bag for every athlete. For boxers we recommend a punching bag up to 100 centimeters and for kickboxers a bag from 120 centimeters upwards. Good to know: a longer punching bag weighs more and therefore hangs more firmly.
○ 70 cm – 14 kg – Children up to 8 – 9 years
○ 80 cm – 20 kg – Children up to 12 years and boxers
○ 100 cm – 24 kg – For punches
○ 120 cm – 29 kg – For kicks and punches
○ 150 cm – 36 kg – For kicks and punches
○ 180 cm – 43 kg – For kicks and punches

Tip: use a ceiling ring or wall hook to easily attach the punching bag to the ceiling or wall.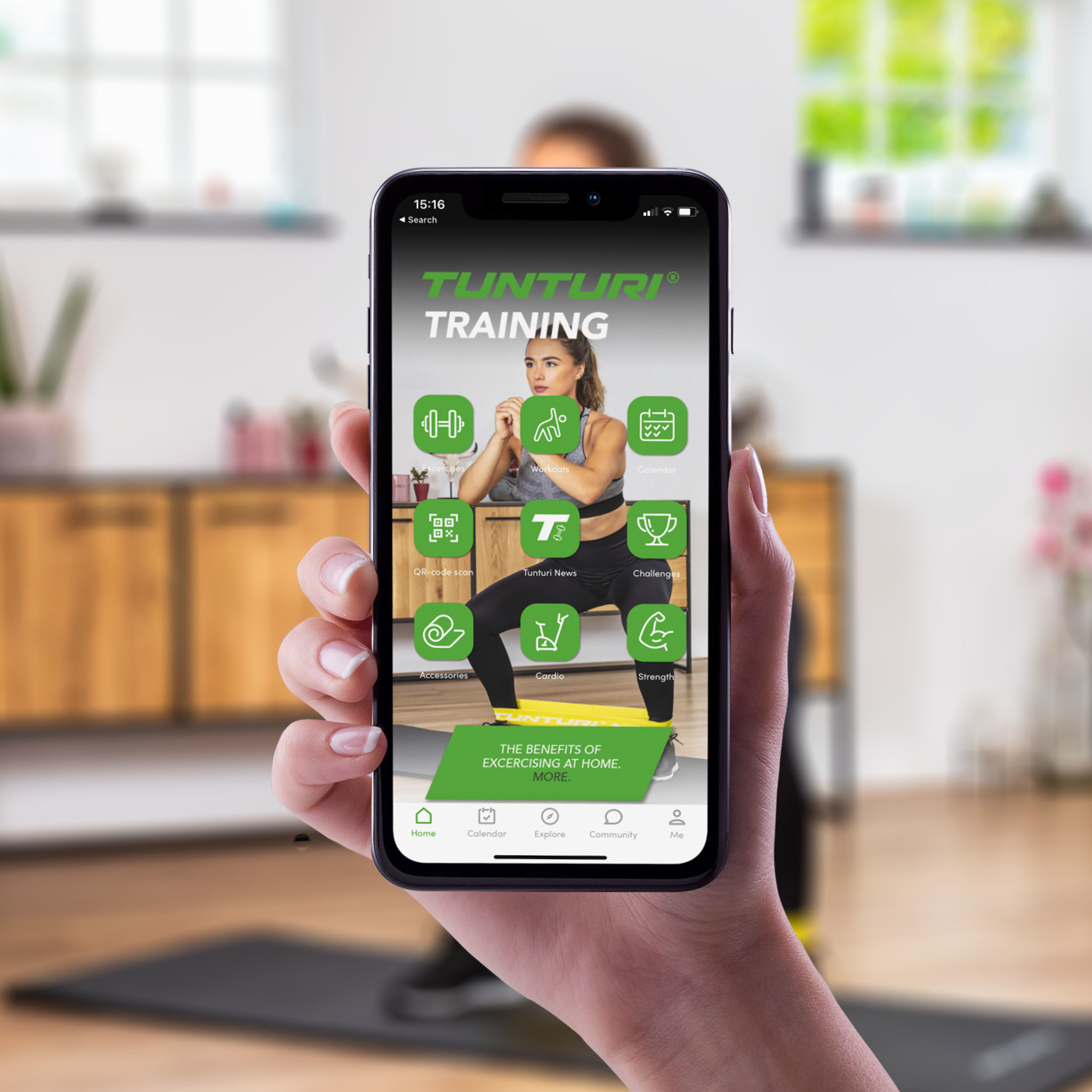 Including Free Tunturi Training app
Looking for help, inspiration or motivation for your training? In Tunturi Training you will find thousands of animated fitness exercises, instructions and workout videos. These will help you get the most out of yourself and your Tunturi products. You can train solo and create your own training schedule, as well as attend group classes and make use of the community. The library is regularly updated so that new challenges and inspiration can always be found in the app. And the beauty of it is: Tunturi Training is 100% free! and can be downloaded from the App Store and Play Store!
View Tunturi Training